Archiving – Part of your business process
Presentation by Digital-e-Archive Ltd – Michael Lister www.digital-e-archive.co.uk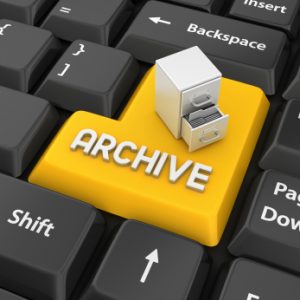 Digital-e-Archive Ltd was formed as a result of solving a client's specific business needs. An accounting practice had steadily grown over the previous five years and had accumulated many boxes of archived paper files that were taking up both space and resources to manage.
The client  could have placed the archive boxes in external storage, but the on-going costs and the logistical problems of retrieving files when needed would not fulfil their requirements. In addition the client did not like the reading experience of .PDF files.

Digital-e-Archive Ltd provided a solution where all of the paper archive files were scanned in, but instead of creating flat .PDF files we created Digital Documents. These are full interactive electronic files that are indexed, searchable and page turning – they replicate normal book reading. Archived files are then stored on the client's server for immediate access by staff whenever needed. Scanned files can then be securely shredded and recycled.
Archiving, however, is more than simply scanning – it can form part of your current business processes and be an integral part of your disaster recovery plan.
Electronic Document Management (EDM) solutions allow you to manage and process all documents that pass through your business. Whether documents are received from clients, suppliers (post, e-mail or file transfer) or generated and edited internally, EDM provides control and monitoring procedures to allow you to keep track of what's going on.
If EDM is deployed effectively it becomes a key part of your business's Disaster Recovery Plan. In the event of fire, theft, flood or other disaster then your files can be simply re-constituted at the touch of a button.
For more information about our archiving solutions, contact Mike Lister at mike@digital-e-archive.co.uk
Let's Do Business – Lancashire's b2b Networking Group
© Let's Do Business 2017